Does that sound familiar to you? Your customers demand maximum spare parts availability, delivery times within 24 hours or even overnight to third countries, order times after 6:00 p.m. (so-called cut-off time), technician and trunk delivery, easy returns processing, maximum traceability and transparency for every order - and that all at minimal cost.
Depending on the individual situation and requirements, it can make sense to put your own spare parts logistics in the hands of a professional, external 3PL fulfillment service provider (3PL = Third-Party-Logistics). Especially in the field of European and international spare parts logistics, storage, picking, packaging and same-day dispatch of spare parts via a high-performance carrier network play a decisive role. For small and medium-sized companies in particular, it can bring strategic advantages to opt out of in-house storage and in favor of external fulfillment.
But how can you make the best possible use of the opportunities and minimize the risks of external fulfillment?
PartsCloud shows the most important differences, advantages and disadvantages of external fulfillment compared to those of your own spare parts warehouse and helps you to make the right decision for you.
What options are there for operating my spare parts warehouse?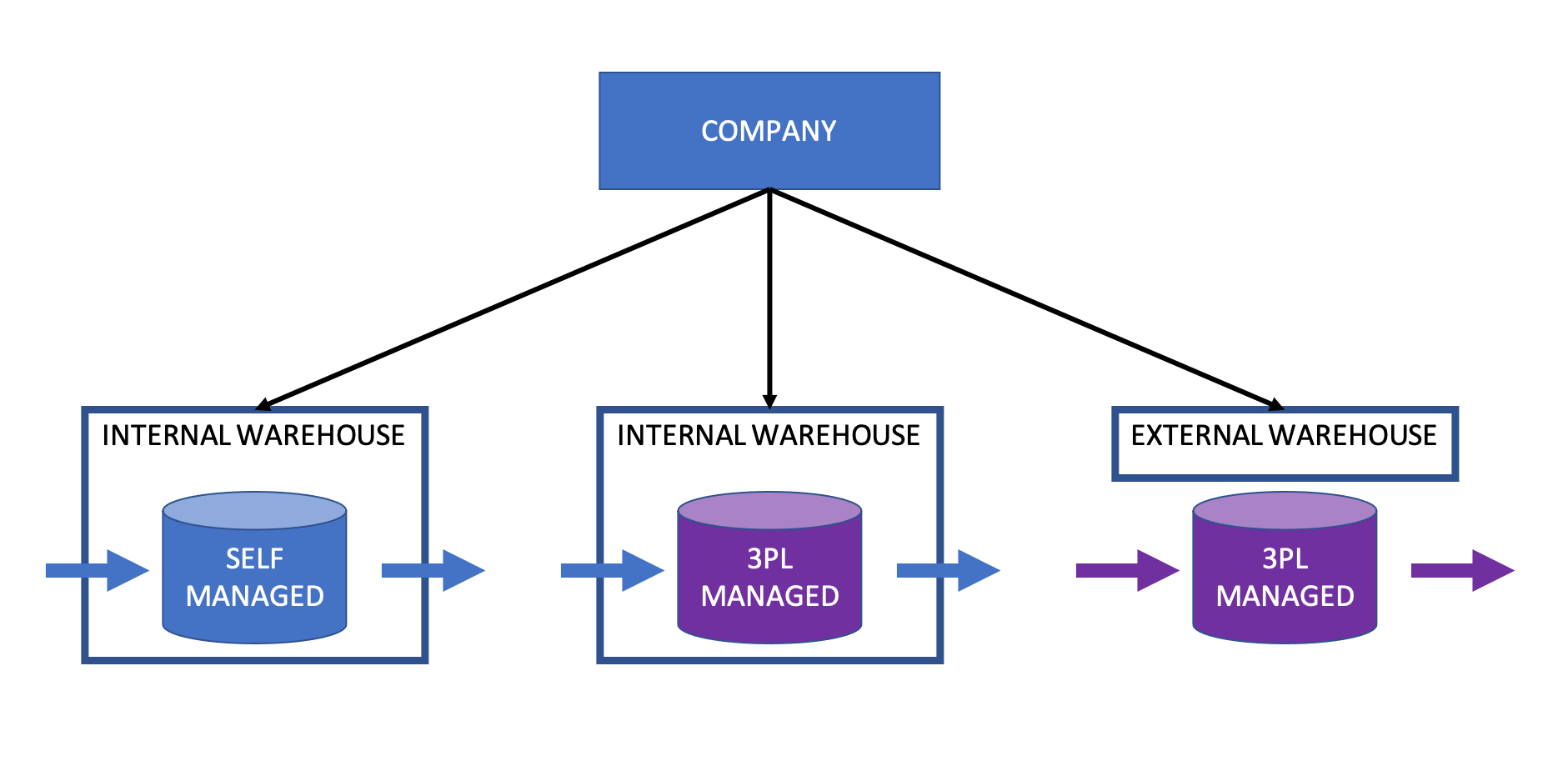 Regardless of which option you choose: the goal is always to find the optimum between low costs and high logistics performance. Either you take over all logistics processes yourself or you hand over some or even all of the tasks within the spare parts logistics to an external service provider. Each setup has different advantages and disadvantages, which must be assessed individually.
Internal spare parts warehouse: Today, the internal spare parts warehouses at the company headquarters are still the most common model in industrial medium-sized companies. This is mainly due to the fact that the spare parts business traditionally emerged and grew out of the production of its own primary products. At some point the first customer got in touch and asked for a spare part for his machine or equipment. Very often, spare parts are therefore still stored together with the production material in a mixed warehouse. Separate spare parts warehouses are less common, but can also be found in practice, on the company's own premises. The decision to invest in their own spare parts warehouse is usually made by larger, successful companies that have recognized the strategic value of the spare parts business for their company and can afford the necessary investments in infrastructure, IT and personnel.
Internal spare parts warehouse with external staff: Some companies have decided to no longer include operational work in the spare parts warehouse as one of their core competencies. You have external staff on duty at your own warehouse location who take over warehouse operations for you. Above all, they expect cost advantages compared to their own, usually more expensive staff, as well as improved performance due to the higher degree of specialization. In contrast, in this model, the distribution partners, i.e. CEP services and general cargo forwarders, as well as shipping processing, are usually still coordinated by the company itself.
External spare parts warehouse: Fast-growing companies in particular are increasingly opting for an external, service-provider-managed spare parts warehouse in order to be able to flexibly map their dynamic growth and larger fluctuations in utilization. In the area of ​​eCommerce, the outsourcing of the entire logistics to specialized fulfillment service providers has meanwhile become standard. In addition to warehousing, specialized service providers often take on shipping, customs and export processing as well as controlling the carrier network.
Differences between external fulfillment and internal warehousing
PartsCloud has examined the differences as well as advantages and disadvantages of the various options for spare parts logistics in detail:
Cost
The main difference between the two models is the cost. The construction, operation, maintenance and further development of your own internal spare parts warehouse inevitably entails investments. Depending on how the company and its spare parts business develops, larger investments are required approximately every 3-5 years. Either storage capacities have to be adjusted, IT systems receive an upgrade, warehouse technology has to be renewed or processing processes simply have to be adapted to new market and customer requirements. Small and medium-sized mechanical and plant engineering companies in particular find it difficult here. The strategic focus is usually not on the after sales and spare parts business, but on the OEM business, which is why necessary investments are not infrequently postponed or even canceled entirely. Over the years, therefore, many medium-sized companies in the field of spare parts logistics have built up an investment backlog.
Many are currently facing the crucial question: invest in a future-proof, scalable spare parts warehouse or go into external fulfillment?
A major advantage of external fulfillment via 3PL fulfillment partners is the variability in costs. Instead of capital costs (CAPEX), only operational costs arise, mostly in the form of transaction costs (OPEX). Necessary investments in warehouse expansions, new IT and warehouse technology are taken over by the external 3PL fulfillment partner who operates the infrastructure. It has a large number of customers and can therefore optimally use its capacities through diversification. Warehouse employees are always busy and the warehouse is also very busy. Due to the mostly better overall utilization as well as a higher operational excellence of the 3PL fulfillment partner, an average of 5% to 15% savings potential is achieved compared to an own spare parts warehouse. By setting up multi-user warehouse locations specializing in industrial spare parts and using AI-based warehouse planning, PartsCloud even achieves cost savings of up to 30% compared to traditional in-house spare parts storage concepts.
Effort
Planning, operating and optimizing a spare parts warehouse as an integral part of an industrial company brings with it numerous challenges. Not only do cross-departmental processes such as intralogistics between e.g. production and spare parts warehouse have to be finely coordinated. Resource and personnel deployment planning also regularly reaches its limits due to the specific requirements for a spare parts warehouse (e.g. late cut-off times). In particular, inventory planning for the spare parts warehouse often collides with requirements from the OEM business in the event of an internal warehouse setup. Many medium-sized industrial companies regularly have a prioritization conflict between OEM and spare parts business. Unfortunately, the spare parts business is often neglected - despite the significantly stricter customer requirements compared to the OEM business. The working hours of intralogistics and production supply of industrial companies have always been based on the production area. Often times they start at 6:00 a.m. and the shift ends at 2:30 p.m. In the spare parts business, a much broader time corridor has to be covered and coordinated. This presents the operators of so-called mixed storage facilities in particular with major challenges. Additional late-shift personnel must be scheduled for picking spare parts, packaging and shipping. Finding sufficiently qualified personnel for spare parts logistics and adequately training them involves a great deal of administrative effort. Depending on the setup, the use of an external service provider makes sense in order to be able to concentrate more on the core business, the sales and marketing of spare parts.
Control
Medium-sized industrial companies that have so far operated their spare parts warehouse internally always fear a major loss of control as part of external fulfillment. Our internal warehouse naturally offers almost complete control over all processes as well as the proper implementation of quality controls according to your own ideas. Using an external 3PL fulfillment partner initially means relinquishing part of this control. For this it is first necessary that the service provider earns the trust of the transferring company. However, experience shows that there is often no time, let alone opportunity, for this. How "well" the service provider actually works can often only be seen after the go-live and when difficulties actually arise. In tricky situations in particular, it becomes clear whether you can really rely on your 3PL fulfillment partner.
It is therefore all the more important to check the relevant criteria when selecting the 3PL fulfillment partner. With PartsCloud, customers can select their logistics partner up to 75% faster and more accurately, as PartsCloud already has a qualified network of specialized 3PL spare parts logistics service providers. In addition, PartsCloud gives customers direct access to professional spare parts warehouses that are operated by fulfillment service providers as multi-user warehouses. Digital tools can help in operational operations to support the collaboration and control of the external fulfillment service provider. PartsCloud offers a digital dashboard especially for this, in which incoming goods, customer orders, returns and the current inventory at the service provider can be monitored in real time and the service provider can be contacted directly if necessary.
Flexibility
Companies that do their own purchasing, warehouse planning, warehousing, fulfillment and dispatch processing must expect fixed costs for warehouse rent, warehouse equipment, IT and personnel. The monitoring of spare parts stocks and their forward-looking planning and disposition requires constant manual interventions due to the often outdated ERP on-premise system status so that there are no delivery bottlenecks. By relocating to external fulfillment, all fixed costs for storage, equipment and personnel are eliminated. The use of modern digital tools can also largely automate the planning and monitoring effort. With PartsCloud it is possible to only pay for the capacities actually used. In this way, capacities can be scaled as required and costs can be reduced.
Advantages and disadvantages of the different variants
The following overview summarizes the main advantages and disadvantages of the various spare parts logistics options.
This overview is only intended to provide an initial overview and of course does not replace a detailed examination of the various alternatives in a specific individual case. PartsCloud will be happy to support you in your search for the optimal strategic solution for your individual situation. Contact us!
Challenges for traditional, medium-sized industrial companies
Customer requirements regarding delivery times for spare parts have increased continuously worldwide in recent years. In times of Amazon 1-day delivery, companies have to invest large sums in their warehousing and fulfillment infrastructure and IT in order to keep pace with the increased demands of their customers. Modern eCommerce companies rely on external warehousing and fulfillment partners right from the start due to the extremely high standards that companies such as Amazon, Zalando & Co. have set in recent years. Increasingly, so-called e-fulfillment platforms such as Warehousing1, Alaiko, everstoxx or Hive-Logistics are also establishing themselves, which also enable small and medium-sized eCommerce companies to outsource their fulfillment to external 3PL fulfillment partners particularly easily.
This brave new world has so far been denied to established medium-sized industrial companies.
Traditional industrial companies usually have existing warehouse structures that they also use for spare parts logistics. It is not uncommon for complex constructs with in-house transports to emerge here in the last few decades. These companies are regularly faced with the question of how they can cope logistically with the next growth and are increasingly reaching their physical limits. They often receive increasing criticism from their customers for their lengthy internal processes, especially in the time-critical spare parts area. Here your own, expensive logistics property as well as legacy systems in the area of ​​ERP and WMS stand in the way of a decision for an externally managed spare parts warehouse. Although external fulfillment is usually the strategically more sensible way, it is often rejected due to incalculable expenditure of time, costs and risks as well as the lack of transparency of the market situation of 3PL service providers. The biggest obstacles to external fulfillment of the spare parts logistics of a medium-sized industrial company are:
High risk of selecting the "wrong" external 3PL fulfillment partner or corresponding lengthy search and tendering processes
Difficulties in finding professional 3PL fulfillment partners due to insufficient transaction volumes in the spare parts business or limited access only to local service providers with a limited service level
Very high one-time expense for the IT connection of the 3PL partner's warehouse management system (WMS) to their own ERP system, as this usually does not meet the minimum requirements for a standardized connection of current ERP releases and thus the 3PL partner has to carry out an individual IT connection deep integration of business processes or high switching costs in the event of a possibly necessary change of service provider
High dependency on the selected 3PL partner due to the deep integration of business processes, or high switching costs in the event that a change of service provider is required
Very long project duration of one to two years until go-live, mainly due to the necessary selection processes and the necessary extensive IT In integration
At PartsCloud, we are tackling these challenges consistently by establishing and qualifying a network of professional 3PL partners specializing in spare parts logistics and connecting it to our PartsCloud Tech platform on the IT side. A large part of the above-mentioned efforts, costs and risks will therefore be eliminated in the future. Our mission: to give industrial medium-sized companies an easy way to implement professional global spare parts logistics without horrific investment sums and to be able to offer their customers worldwide a modern delivery service for their spare parts.
The Covid-19 crisis acts like a catalyst on the ongoing trend towards logistics outsourcing. In-house logistics capacities are increasingly required to buffer the production supply chains due to the fluctuating demand in the OEM business. Spare parts stocks are increasingly "in the way". Many companies have to decide how they should set up their spare parts logistics for the future, both independently of new business and customer-oriented, i.e. with a very high delivery rate.